Ethnic and traditional wears are the evergreen outfits that can be worn at any occasion. The outfit comes in many different varieties and there are thousands of colour options with infinite prints and designs. The most amazing and stunning traditional outfit is the beautiful salwar suit. This three-piece attire can be bought from online sites or get it from your favourite market. Scrolling through the wholesale salwar kameez on any online site will get you your desired outfit in just a few clicks. 
One of the most famous types of salwar kameez is the adoring churidar salwar suit. The attire consists of a salwar that is fitted at the ankle with several wrinkles and loose from waist to knees, a kurti that can be straight, anarkali or in any other asymmetrical pattern and a beautiful dupatta. The most amazing part of this outfit is that it is very comfortable and classy to wear. It has been popular since the Mughal period. They used to wear anarkali kurtis with churidar salwar and a matching dupatta as casual wear. 
1. Black and White, a Drastic Pair:
It's difficult to take your eyes off from this adoring black and white churidar salwar kameez. The outfit has a simple round neckline and long sleeves that is giving the attire a drastic look. The kurti is detailed with white thread work having flowers and paisleys as a pattern. A black churidar and a black dupatta having white border is making a perfect traditional pair. Wearing it at parties or any event will make you the limelight of that party. For a complete look, pair some beautiful jewellery with this outfit and a pair of stunning shoes.
2. Churidar with Anarkali kurti:
This beautiful outfit is a perfect pick for any party or occasion. The heavy embroidery work on the kurti is making it look more attractive. The detailed neckline and laces at the bottom of the kurti is looking perfect on this black anarkali. Pairing it with a red churidar salwar and this beautiful double coloured dupatta is enough to give you a perfect look. Wearing accessories such as rings, earrings, bracelets or bangles is just a perfect match with this outfit.
3. Salwar Suit with Silk Dupatta:
What can be better than silk. This adoring white churidar salwar suit is just too amazing and the bright dupatta paired with it is making it look more interesting. The most attractive part in this outfit is it's dupatta. It is detailed with golden zari work, the golden border and some intricate designs is making it a flawless dupatta. The kurti has thin triangular laces and some small patches at the front making it a party wear dress. Some accessories and a perfect pair of shoes will complete your entire look. 
4. Slit Churidar Salwar Suit:
This awesome grey slit salwar suit with beautiful embroidery work is too awesome to wear at functions and events. The big motifs with some amazing paisleys and flowers and a rich neckline is a perfect dress for parties or events. Wearing this one on Diwali party or at farewell will make you look ravishing. The long sleeves having patch work at the elbow is making it look more dignified. A lemon colour churidar salwar and matching dupatta with this slit kurti is a blasting contrast.
5. Printed Churidar Salwar Suit:
The printed georgette salwar suit is a great pick for casual wear. The orange and white combination of this adoring dress is making it just an awesome pair. The linings on the salwar and a floral print kurti with matching dupatta. A beautiful neckline and short sleeves is making it a perfect and comfortable outfit. The knee length side slit kurti is comfortable to manage and wear attire. It is also a better pick for small gatherings and kitty parties. Choose a pair of shoes wisely. 
6. Purple for Wedding Functions: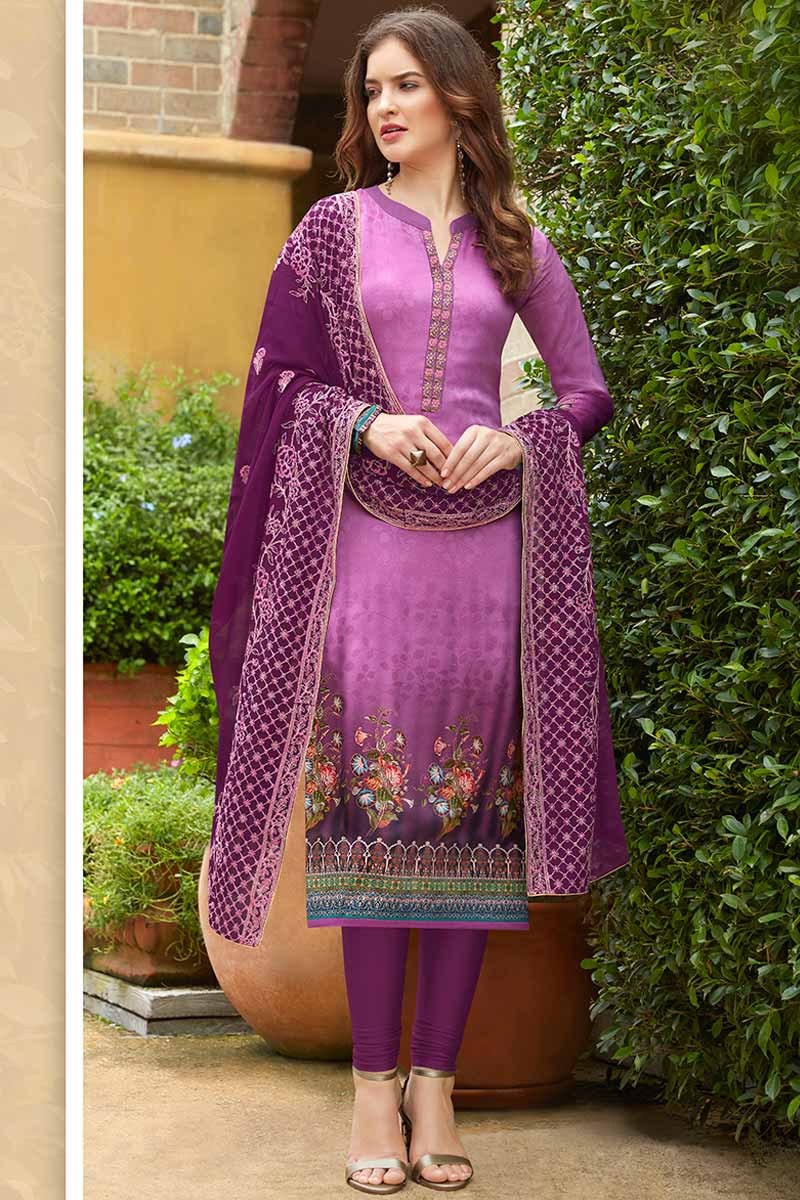 Choosing this one to wear on any pre-wedding or post-wedding function. This alluring colour is mostly loved by many women. The printed kurti and a designer dupatta is making a great pair. The colourful prints at the bottom of the kurti is so adoring. The simple neck and full sleeves is making it a worth purchasing outfit. Wearing it at a sangeet ceremony or reception party. A fitted churidar salwar with this straight kurti is making the attire look more perfect. If you want to stitch your own wedding salwar suit get a wholesale dress material and design it your way.
7. A Geometric Touch: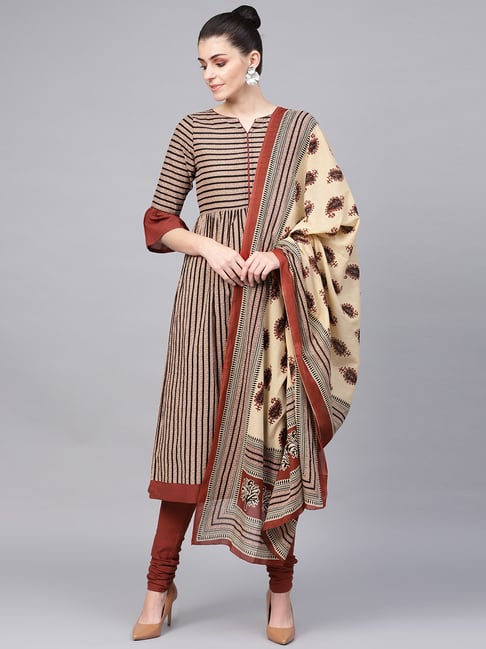 The linings and pattern of this salwar suit is just too amazing. This cotton churidar salwar suit is perfect for professional events. You can also wear them in puja or other auspicious events. Long sleeves with a frill at the end is making it look more attractive. A printed dupatta having some small prints and adoring borders is making a perfect match with this lining print kurti and a plain brown salwar. A simple hairstyle and light makeup is the necessity of this attire.
8. Printed Suit with Keyhole: If you love prints then this can be a great pick. Some circles and linings are making it look more attractive. A red churidar salwar and a beautiful black and red dupatta is a perfect combination. Black and white triangular print all over the kurti and keyholes at neck is making the attire look pretty and a worth wearing occasional outfit. It will be a great pick for summers, as the fabric is light and soft it will give a great level of comfort to the wearer.
9. Fluorescent colour for Bright Look:
Pick a bright colour for an amazing look. This orange and grey churidar salwar suit is a perfect party wear dress. Wearing this one at festivals and other functions will give you a gorgeous look. The simple and elegant prints are perfect for a slim and tall look. Wearing a perfect fitted salwar and a straight side slit kurti having a stand collar and V-neck is a proper pick for a comfortable and fresh feel. Pair some jewellery and a pair of shoes and get your look completed with this awesome dress. Buy ladies churidar salwar suits online for party.
10. Up and Down Churidar Salwar Suit:
The stylish pattern is just too awesome. The up and down kurti paired with a churidar salwar is giving a totally different look to the outfit. The broad lace at the bottom of the kurti is making a perfect match with the kurti. A bright and vibrant yellow colour kurti paired with a churidar salwar and a multi-colour dupatta can be worn at parties and events. If you love to wear something colourful then this one is the best among all the others in the list.